DocuImageCapture-OCR, is an Optical Character Recognition (OCR) software that digitally scanned images of typewritten or printed text into editable files.
Using our software you will be able to convert any scanned files into Microsoft .DOC, .DOCX, .RTF, XLS, XLSX, TXT and editable PDF files with accurate Optical Character Recognition technology.
For more details, please visit our product website at http://www.DocuImageCapture.com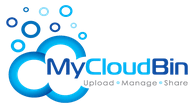 MyCloudBin.com, is leading provider of Enterprise Online Files Storage and Sharing portal. It's highly reliable, scalable and low-cost cloud platform to business and individual users to store, manage, share and access files from any devices and anywhere, at anytime.
For more details, Please visit our product website at http://www.MyCloudBin.com